UNIVERSITY OF IDAHO COUER D' ALENE CAMPUS
April 2012
A disgrace to the University of Idaho Couer d'Alene campus, a disgrace to mankind - untold cruelty to geese!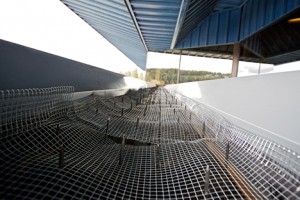 Steel spikes installed by the University of Idaho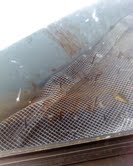 Blood where geese landed and got grievously hurt.

It is with great sadness and heartbreak that we have to inform you about an extremely cruel act caused by the University of Idaho Coeur d'Alene campus toward nesting Canada geese. Their actions to prevent geese from nesting caused untold suffering to the geese. It is hard to imagine that a University can commit such cruelty toward animals. Many injured geese will suffer for a long time before they die.

Goose gougers going away
By ALECIA WARREN and BILL BULEY/Staff writers Posted: Saturday, April 14, 2012 12:00 am
COEUR d'ALENE - Carol Muzik was preparing for vacation about two weeks ago when she received an anonymous voicemail.
The voice said steel spikes had been installed in the bedding area of the University of Idaho-Coeur d'Alene building next to the Spokane River where geese have long nested.
Geese, the message went on, were being hurt.
"It was a frantic individual," Muzik said. The geese "were jumping up and down, getting impaled over and over, there were pools of blood."
Muzik, author of the book "Raising Lucy" about her experience raising an orphaned goose, immediately contacted fellow animal activists.
"It was really sad. I started crying, because I felt helpless," she said.
Charles Buck, University of Idaho-Coeur d'Alene associate vice president and chief executive, said Friday the spikes will be removed Monday.
A few hundred were installed a few weeks ago to prevent geese from nesting on the second-level bedding area in an outlook patio that overlooks the Spokane River.
"We are trying to find a cost-effective way to achieve a deterrent for the nesting behavior," he said.
But the sharp tips on the spikes hurt some of the geese, and left blood stains behind. Even after a wire mesh was installed over the spikes, geese were injured because steel tips jutted out.
Muzik accompanied Adrienne Cronebaugh with Kootenai Environmental Alliance on Thursday to check out the scene and appeal to Buck. She snapped photos of the roof.
"There are several spots where there is evidence of blood, still," Muzik said. "It's clearly evidenced they still are being injured."
That led to increased public outcry, heated phone calls and emotional face-to-face encounters as the situation went viral via Facebook.
KEA board member Merlyn Nelson said he was "full of anger" over the issue.
"There's only one word for it. Appalled," he said. "I saw the spikes, I took a picture of it and I saw the blood."
There haven't been any dead geese found, he acknowledged, but he is convinced that the spikes pose a significant threat to the animals.
"They get hurt and fly away the best they can, then go someplace and die," Nelson said. "They're not going to live after they've got eight spike holes in their butt end."
KEA Executive Director Terry Harris said the nonprofit has been barraged with concerned calls.
"Our phones just lit up. People were really wound up about it," Harris said.
This kind of issue just "hits home," he said.
"It was a very visible and kind of cruel way of deterring geese. The photographs are pretty powerful," Harris said. "It's easy to get upset about something like that."
Buck said the intent was never to hurt geese, which are believed to have nested at the site for decades.
He explained there are problems with the geese nesting on the UI-CDA site come spring.
Each year, a gosling or two usually makes its way out of the nest, falls and dies.
Adult geese are also extremely aggressive and disruptive, often banging on windows, and they are extremely messy. It requires hazmat suits and scaffolding to clean up after the geese.
"It's not an appropriate place for geese to nest," Buck said.
As a deterrent, the spikes worked and geese have not been nesting there, but unfortunately, some were injured.
"It was clear that in the first couple of days, there were a couple of geese that got hurt," Buck said. "We did see some blood."
He does not believe any geese were gravely injured. He noted that all the geese in the area were still paired up.
He said Fish and Game said spikes were acceptable to keep geese away, and the mesh was added to prevent geese from being harmed.
Chip Corsi, Idaho Department of Fish and Game regional supervisor, said one of Fish and Game's officers did inspect the spikes a few weeks ago.
He reported back "this isn't such a great situation," and said there were some indications of minor injuries.
"There was something going out there that caused some blood," Corsi said.
He said spikes are considered an acceptable form of deterring geese from nesting in an area.
The ones installed at UI-CDA were steel and pointed.
"Most places use different types of material and spikes that have some give to them," Corsi said.
While Buck said he disagreed the spikes were inhumane, he agreed to remove them to be responsive to the community.
Buck took on his role at UI-CDA about nine months ago.
"I don't want to drag the university into a controversy like this," he said.
He said some were angry when they spoke to him.
"I'm not sure the voices are as reasonable as they could be on the other side," he said.
He said the spikes would have been removed Friday, but a maintenance worker was out sick. They will be removed Monday.
Meantime, UI-CDA will consider different solutions "that won't involve the possibility of injury."
One method being considered is fabricating an aluminum teepee of sorts over the bedding space that would created an uneven landing area.
UI-CDA employees have also built nesting boxes that may be installed on the river piling in front of the building, and horticulture staff may plant geraniums in the nesting area because geese don't like geraniums.
"We can explore an answer together," Muzik said. "There are more humane ways to do things."
Corsi didn't fault Buck or UI-CDA. They followed recommended methods to deter geese from nesting, responded to concerns and are seeking a solution.
"I'm satisfied that they're working on it," he said.
Muzik said she and others plan to set up helium balloons this morning around the area to deter geese from landing there until the spikes are removed.
"We just want to go out and make sure no more geese land there," she said.
TAKE ACTION:
Please contact the University of Idaho to voice your outrage at their cruel and inhumane attitude toward animals:

http://www.uidaho.edu/cda/contactus

Submit your letters to the CDA Press:

http://www.cdapress.com/submissions/?mode=letters

Thank you all.